Ayala Corporation's power arm, AC Energy, has started to integrate a circular approach in its renewable energy developments to help reduce the environmental impact in its construction sites and its host communities.  In Zambales and Laguna,  AC Energy is constructing two solar power plants, the 120 MW Alaminos  and 60 MW Palauig plants, with the installation of solar panels already in full swing.
Plastics are used as a general packing material, and it is no different with products like solar panels that need to be delivered from the factory to the project site. The amount of plastic that was used to wrap the panels for the new solar plants alone weigh over an estimated 12,000 kilograms. Rather than dispose of this non-biodegradable material to the landfill, AC energy used it as an opportunity to pilot its waste management system that fosters a collaborative space for environmental, social and economic initiatives.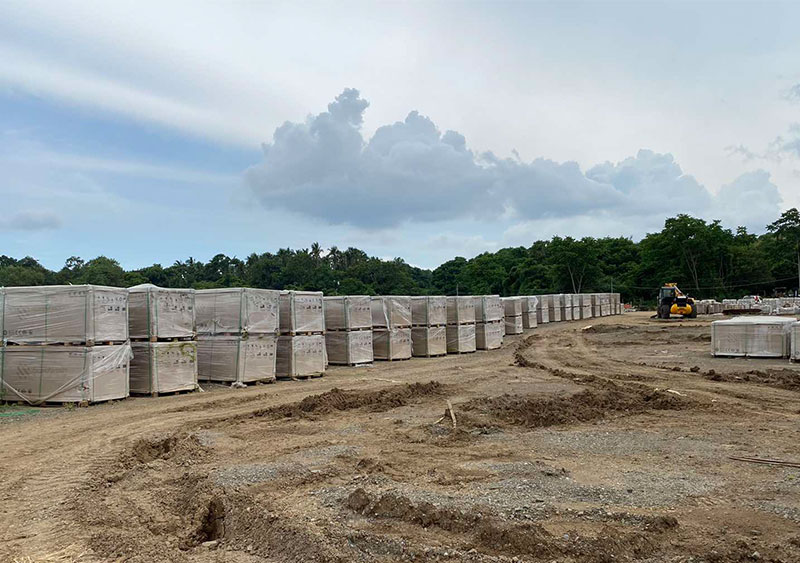 In collaboration with Green Antz Builders,  AC Energy has installed a recycling facility in the construction site to shred the plastic waste which will be upcycled into eco-bricks that can be used as construction materials for the solar plant facilities.  This method will ensure proper waste management and save cost, as well as reduce carbon emissions from garbage hauling.
The production of eco-bricks utilizes compression, unlike hollow blocks which are made through moulding. This involves a proprietary process that hollow blocks do not undergo, and the formulation incorporates a special construction additive that makes ecobricks more durable, enabling plastic and cement to adhere together.  Around 20,800 eco bricks and eco casts can be produced in a month by a typical Eco Hub from an estimated 1,540 kilos of plastic waste.
Once the plants are completed, AC Energy will explore collaborations with the local community to develop a program and create a campaign on plastic waste management starting with the segregation of garbage, and the set-up of collection points in sari-sari stores, groceries, markets and shops where plastic products are usually found.  The Eco Hub facility will then serve as a plastic waste recycling hub for the community.
By working together with its partners, the local government and the community, AC Energy aims to create a circular approach, close the loop within its project locations, and help the communities live in a pollution-free environment.