DOLE recognizes MonteSol's strict compliance with IATF's COVID-19 protocols
MonteSol is the first solar power plant in Region-7 to receive this recognition
AC Energy commits to protecting the wellbeing of its employees for safe and continued operations
AC Energy's (PSE: ACEN) 18 MW MonteSol solar farm in Bais, Negros Oriental, received a Safety Seal Certification from the Department of Labor and Employment (DOLE) for its compliance with the the minimum standard set by the Inter-Agency Task Force for COVID-19 prevention protocol. It is the first plant in the region under the Utilities category to be awarded by DOLE outside Cebu province.
"We thank DOLE for this distinct recognition," said Gabino Ramon Mejia, ACEN's Executive Director & Head of Plant Operations. "As the pandemic rages on, we recognize that keeping our employees safe is critical in ensuring the continued production of clean energy needed to power Filipinos through this crisis. This certification was crucial for us at AC Energy, as we continue to take the wellbeing of our people seriously and uphold the strictest safety standards."
This certification is a public assurance of MonteSol's strict compliance with preventive and control measures before entry to buildings or workplaces; preventive and control measures inside the workplace; minimizing and reducing contact rate; management of symptomatic individuals at the workplace; Information, Education, and Communication Strategies; Occupational Safety and Health Committee; Notification and Reporting; disinfection and closure of buildings and workplaces; and leave of absences and entitlements.
"[The] safety seal issued to them affirms that they have been found compliant with the minimum public health standards. Not only that, they have also institutionalized a contact tracing application in the workplace. To the management of Monte Solar Energy Inc., congratulations and we look forward to your continued compliance," said Salome O. Siaton, DOLE regional director.
As a company that aims to champion sustainability in its day-to-day business, ACEN has always prioritized the safety of its employees and plants as a central operational concern. This was made all the more important during the pandemic as ACEN continues to invest in renewables and aggressively expand its presence in the country and across the region to reach its goal of 5,000 MW of renewables capacity by 2025.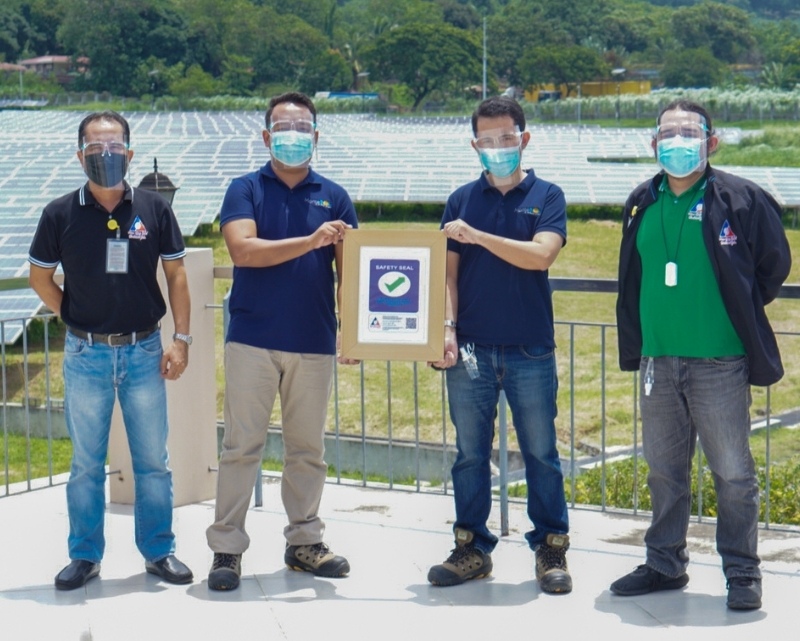 In photo, from L-R:
Engr. Rodolfo Sildora Jr., DOLE Senior Labor & Employment Officer; Engr. Vegie A. Niala, MonteSol Plant Manager, Terence John Ando, MonteSol Health, Safety, Security, and Environment Officer; Engr. Randolph Culanculan, DOLE Senior Labor & Employment Officer