Landmark accolade spans nine projects in the Philippines, with three more in the pipeline
The certification covers ACEN's systems on Quality Management, Environmental Management and Occupational Safety and Health
In committing to sustainability, ACEN commits to efficient and responsible plant operations with the least possible environmental impact
30 June 2022 – ACEN's operating power plants in the Philippines were recently awarded the prestigious Integrated Management System (IMS) certification as verified by DQS Certification Philippines, Inc., one of the leading certification bodies for management systems worldwide.
Nine of ACEN's operating plants have passed the IMS certification for:
• ISO 9001:2015 (Quality Management System)
• ISO 14001:2015 (Environmental Management System)
• ISO 45001:2018 (Occupational Health and Safety Management System)
The awarded plants include ACEN's wind, solar, and peaking plants across the country, namely: the 52 MW NorthWind and 81 MW North Luzon Renewables wind farms in Ilocos Norte; the 54 MW Guimaras Wind in San Lorenzo, Guimaras; the 18 MW MonteSol in Bais, Negros Oriental; the 80 MW IslaSol and 45 MW SacaSol in Negros Occidental; and the 178 MW Luzon peaking plants.
The international distinction comes as ACEN takes significant strides in expanding its renewables footprint across the Asia Pacific, with its attributable capacity now reaching ~3,800 MW, and renewables share of capacity at 87%. The company's commitment to develop its robust operations and streamline its business processes take center stage with the new recognition.
"To us, these IMS initiatives serve as a guide in promoting a culture of continuous improvement and operational excellence in our power plants through simplification and standardization in many of our processes and risk-based approaches for better governance. I am really proud of our teams for wholeheartedly committing to these practices and incorporating them into our day-to-day operations," said Gabino Ramon Mejia, ACEN's Executive Director and Head of Plant Operations.
"We are honored to be part of ACEN's journey towards achieving world class IMS certification on their various operational systems," said Romeo Zamora, Managing Director of DQS. "Through their adherence to stringent international working standards, and their determination and perseverance which we have witnessed firsthand, ACEN's recognition highlights their strategic approach to business operations amidst a challenging environment."
The company's newly operating solar projects such as Alaminos Solar, Palauig Solar, the ACEN Tech Hub and others are in the process of establishing internal systems and continuous improvement programs, gearing up to an audit in a few years' time.
ACEN continues to adhere to its Environmental and Social Policy, its blueprint to embedding sustainability in its operations, as it meets global operating standards and contributes to the United Nations' Sustainable Development Goals.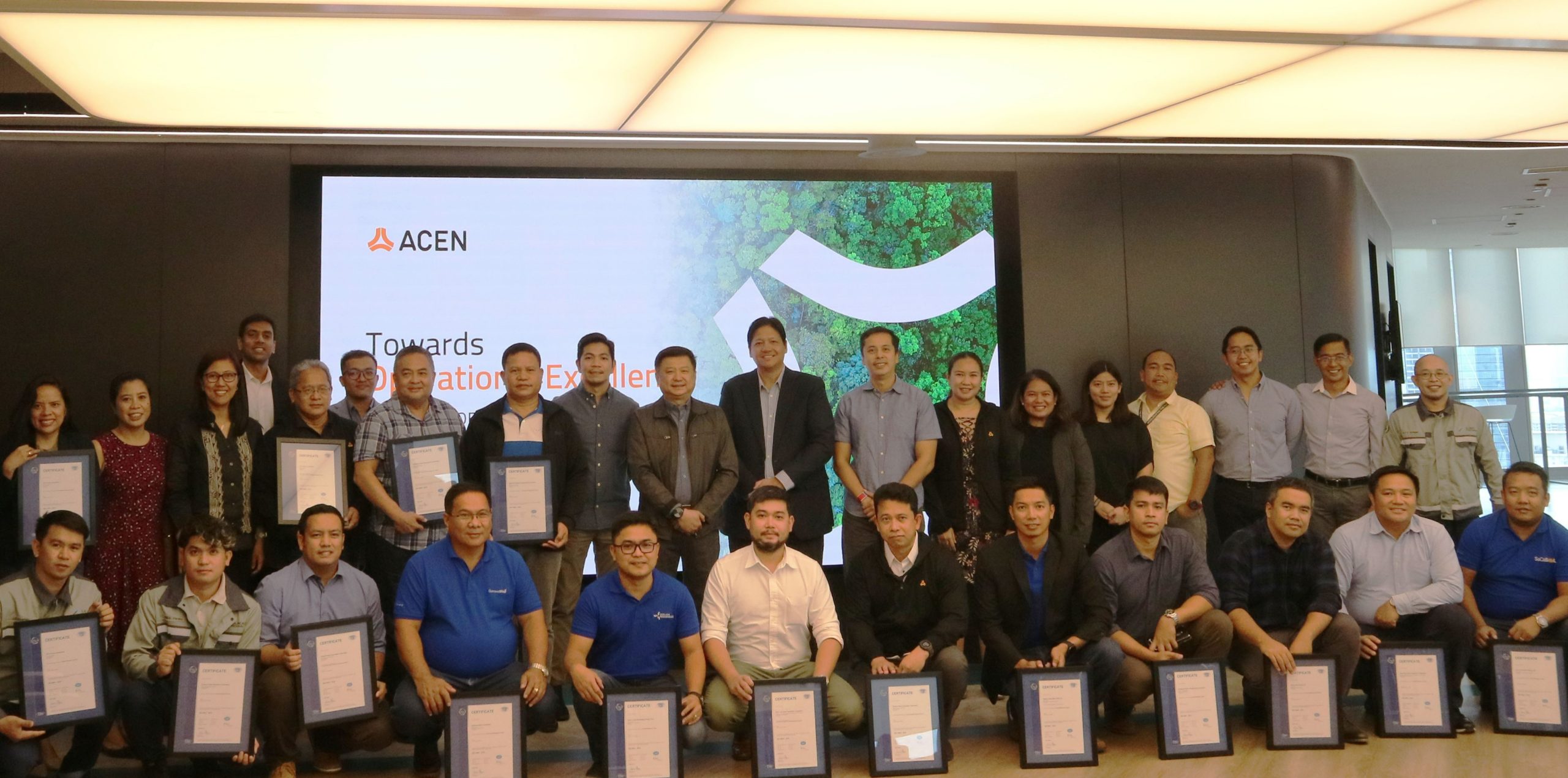 In the photo: ACEN President and CEO, Eric Francia, and Executive Director & Head of Plant Operations, Gabino Ramon Mejia, congratulate the plant teams that gathered at the company headquarters last 22 June 2022 to receive the prestigious Integrated Management System certification, as verified by DQS Certifications Phils., Inc. (DQS).
Present from DQS were Managing Director, Romeo Zamora; Business Development Supervisor, Urich Lucio; ECC International Corp. Regional Director, Karthik Subburaman; and ECC International Corp. Process Consultant, Kathleen Abando.
DISCLAIMER: This disclosure may contain forward-looking statements that are subject to risk factors and opportunities that may affect ACEN's plans to complete the transaction/s subject of this disclosure. Each forward-looking statement is made only as of the date of this disclosure. Outcomes of the subject transaction may differ materially from those expressed in the forward-looking statements included in this disclosure.