How ACEN's new headquarters are the perfect showcase of efficiency, innovation, and sustainability—a great place to work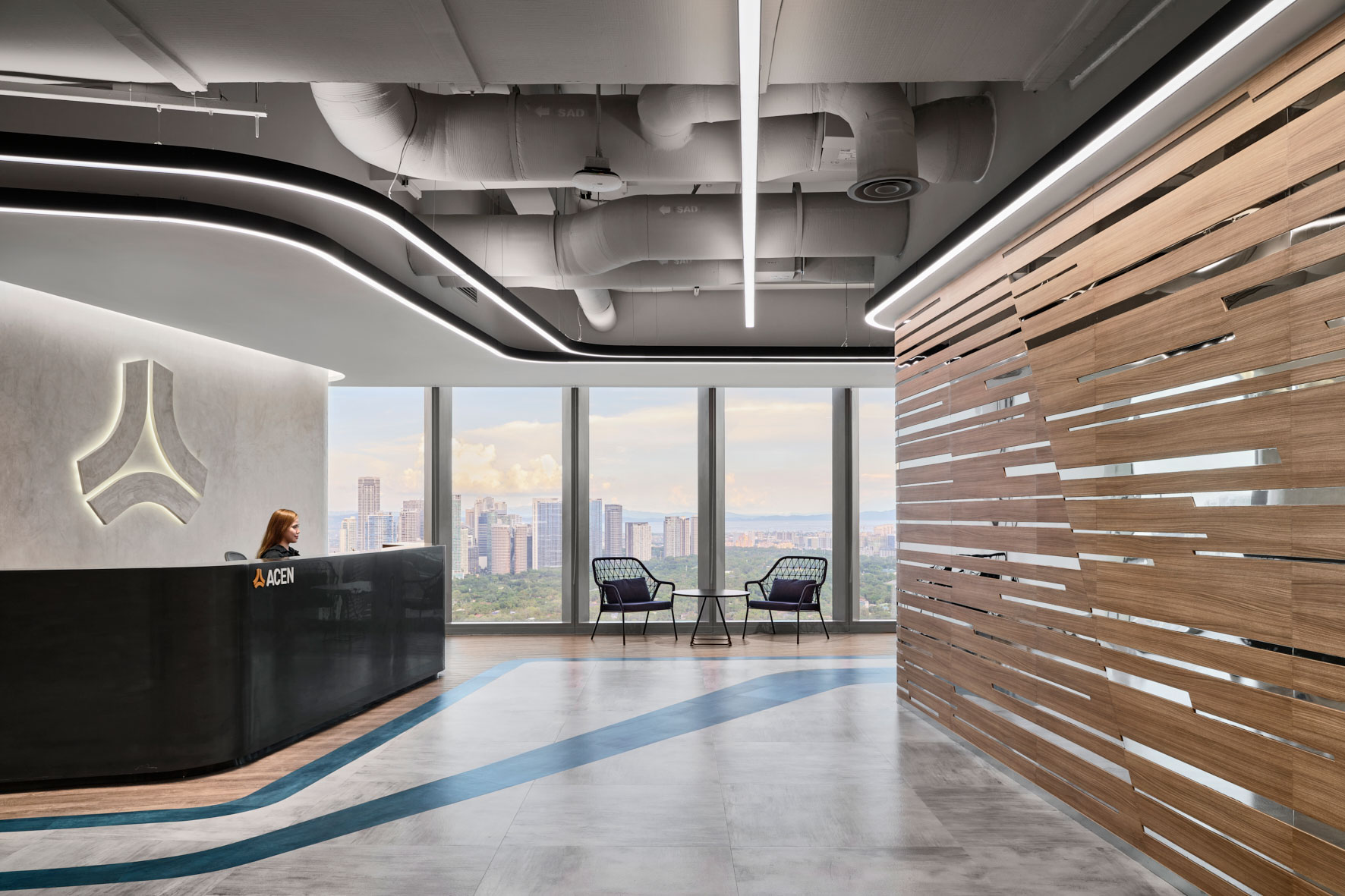 14 December 2022 – The quest for a Net Zero world is a tall order indeed, and for the people committed to such a mission, it is important to have a workplace where they can continuously aspire, strengthen their belief in their ideals, collaborate, and most importantly, deliver on the promise of a sustainable future.
This was the vision of ACEN, Ayala group's listed energy platform, when the company underwent a transformation four years ago, and was faced with the valuable opportunity to move into a bigger office space to make room for a young, dynamic, and growing organization. "It was the perfect chance for us to start with a clean slate and to create a work environment that expresses and embodies all the values that we subscribe to," explains ACEN President and Chief Executive Officer Eric Francia.
Thus, with deliberate planning and attention to detail, the team in charge of shaping the new ACEN headquarters successfully achieved what they sought to accomplish—to build a modern and progressive workplace, in both aesthetics and functionality, befitting the company's commitment to a revolutionary future of clean energy.
Sustainability
To start, ACEN's Headquarters is housed in the state-of-the-art Tower Two of the Ayala Triangle Gardens, a LEED (Leadership in Energy and Environmental Design) Gold certified building. This means that the structure is designed and constructed with resource-efficient features and minimal negative impact to its surroundings.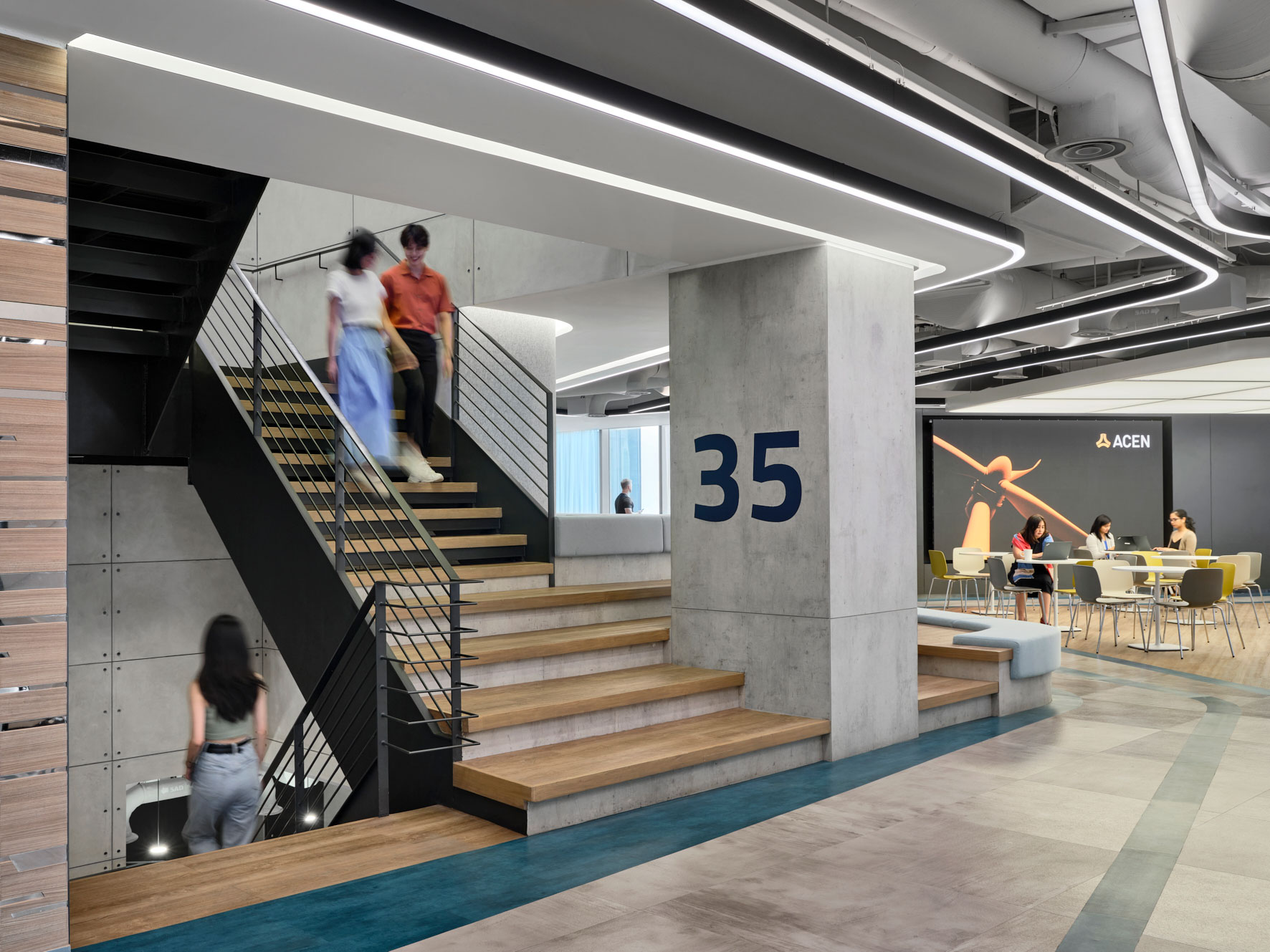 Across the 34th to 36th floors of the building can be found ACEN's offices, a thoughtfully designed domain that continues to incorporate sustainability and wellness on a practical level. Employees can access the main entrance conveniently and efficiently, thanks to high-tech face scanning, which also helps ensure public hygiene.
Employees can access the main entrance conveniently and efficiently, thanks to innovative biometrics technology. Its no-touch, face recognition system helps ensure public hygiene as employees return to work. Contactless technology can be seen throughout the space, in access points towards private and public areas as well as in the bathroom fixtures and motion-activated lighting, to ensure a virus-safe environment. Water-saving faucets are used in the restrooms, and abundant natural light is maximized by floor-to-ceiling windows.
Environment-friendly materials are used wherever possible, such as in the flooring and carpets. This is an important recognition of circular economies that generate products with little to no impact on natural resources, and that support small enterprises.
Materials used in the office are supplied by third-party vendors who also espouse sustainability. "It is of utmost importance that we work with and support these sustainability-oriented enterprises to make sustainability a more pervasive and holistic way of doing business and that we integrated the concept across all areas of our business," says ACEN Vice President and Head of Corporate Communications and Sustainability Irene Maranan.
Indoor plants are also generously and strategically placed all throughout the offices, but these are not just for visual variety-they are particular species that are carefully chosen for their powerful air-purifying capabilities. Especially in light of COVID-19, maintaining good quality of indoor air is paramount to the inhabitants' health and well-being. With the help of these special plants, toxins and carbon dioxide in the enclosed office environment are eliminated and converted into oxygen in an efficient and natural manner.
Inclusivity

The open-door culture of the organization is also exemplified in the design of the Executive Flex Rooms, managerial offices that can convert into a small meeting room, which also contribute to overall space and resource efficiency. ACEN Executive Director and Head of Commercial Operations Miguel de Jesus shares how effective these flexible executive offices are: "The idea to convert my office into a usable space when I'm away is not only a clever way to make more efficient use of space and resources like electricity and air conditioning, but it also helps build camaraderie within our team, knowing that they have a ready place to use when they need to rush a task or have a quick discussion about our work."
On every floor, employees can have their fill of coffee, tea, and drinking water at the Teapoint. Bar 35 and Bar 36 are nooks specially designed to accommodate catering services during events or cocktail mixing for a little nightcap after office hours. Louis de Jesus of ACEN Investor Relations appreciates how these little but thoughtful provisions are meaningful to team members. "When we are hard at work, we often take for granted how helpful it is to take a break with a cup of coffee or a drink of water, so having these things on hand really show us that ACEN cares for our comfort and well-being," he says.
Employee welfare is top priority at ACEN, and as such, inclusivity was taken into consideration in creating the new headquarters. During the planning period, ACEN's Human Resources facilitated focus group discussions and implemented employee surveys to gather inputs on how to make the design and features of the new ACEN offices more appreciable and relevant for all team members.
All meeting rooms, including the Board Room and the Executive Lounge, are equipped with the latest technologies for efficiency and convenience—plug-and-play provisions for seamless virtual conferences, which are the new normal in a post-pandemic world. Other high-tech features in the meeting rooms include turning the glass windows opaque at the touch of a button for privacy during closed-door discussions.
Spaces and views
There are also spaces that are deliberately designed for human needs apart from those necessary for carrying out daily work. "Nurture" is a dedicated breastfeeding or lactation room, "Recharge" is a private nap area, while "Refresh" is a complete shower facility. "Energize" is a time-out zone where team members can play a round of table tennis, watch a movie, or hop on the treadmill.
A notable feature that also encourages inclusivity and diversity in the ACEN offices are gender-neutral restrooms for the free use of all employees and visitors.
Most importantly, there are spaces at the ACEN HQ that foster collaboration and enable greater productivity among all team members.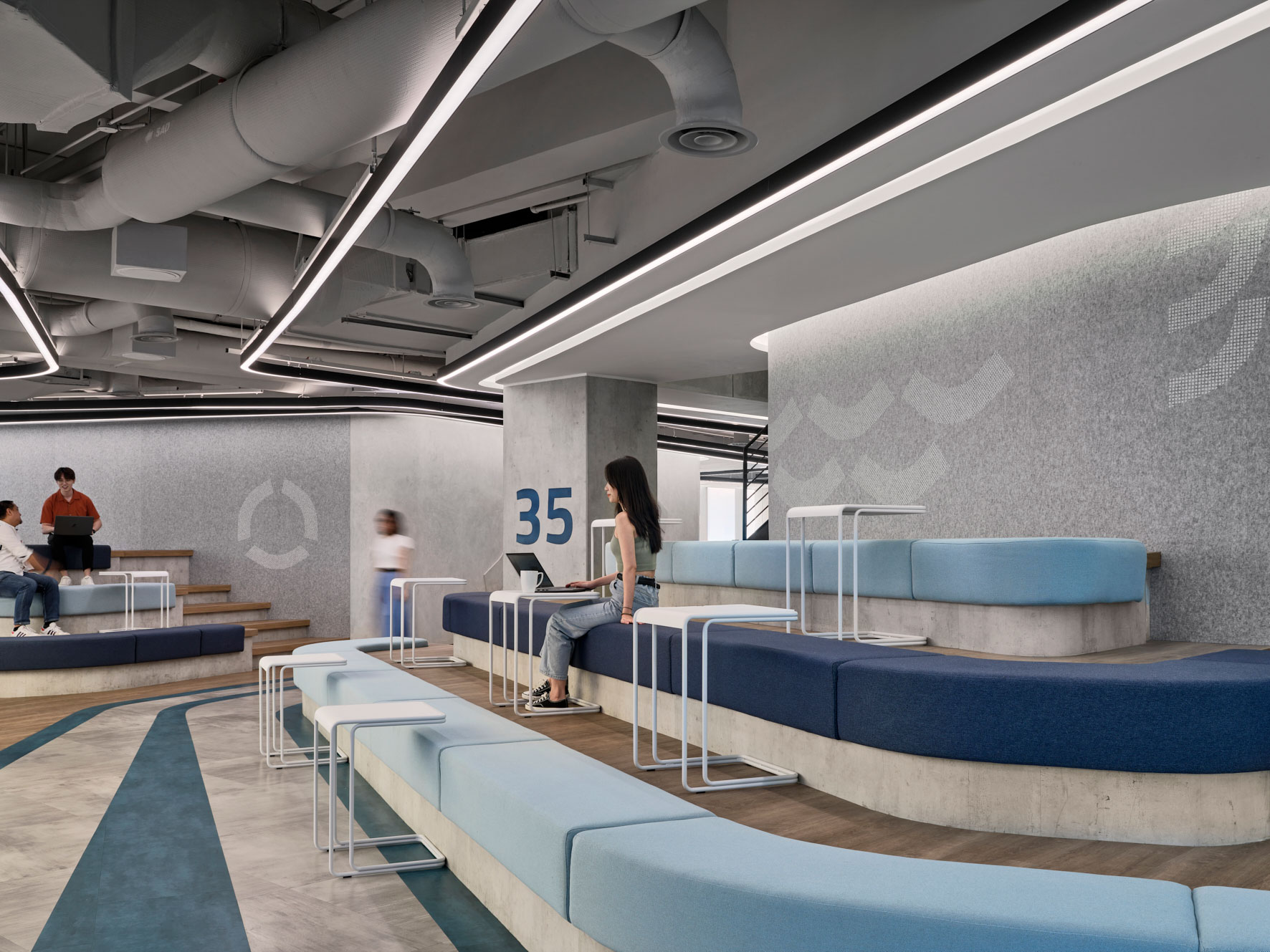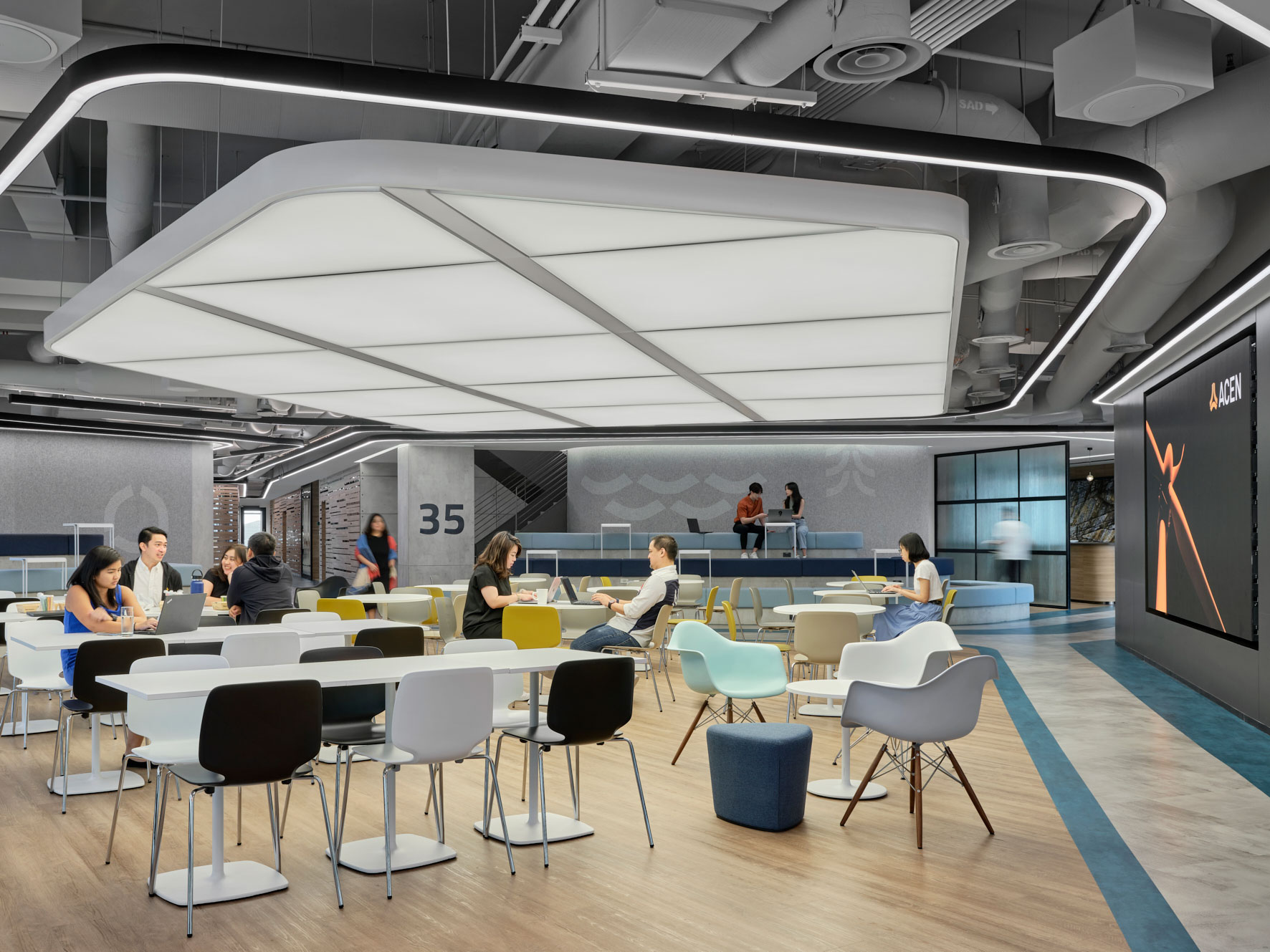 The Melting Pot
The convergence point across the entire ACEN headquarters is the Melting Pot, a common area that features an amphitheater set-up perfect for company-wide gatherings. It can accommodate up to 200 persons and is the venue for townhall meetings, partner events, and many other major gatherings. On ordinary days, it is a free-for-all space that can serve as a dining area or workspace, with strategically placed booths by the windows.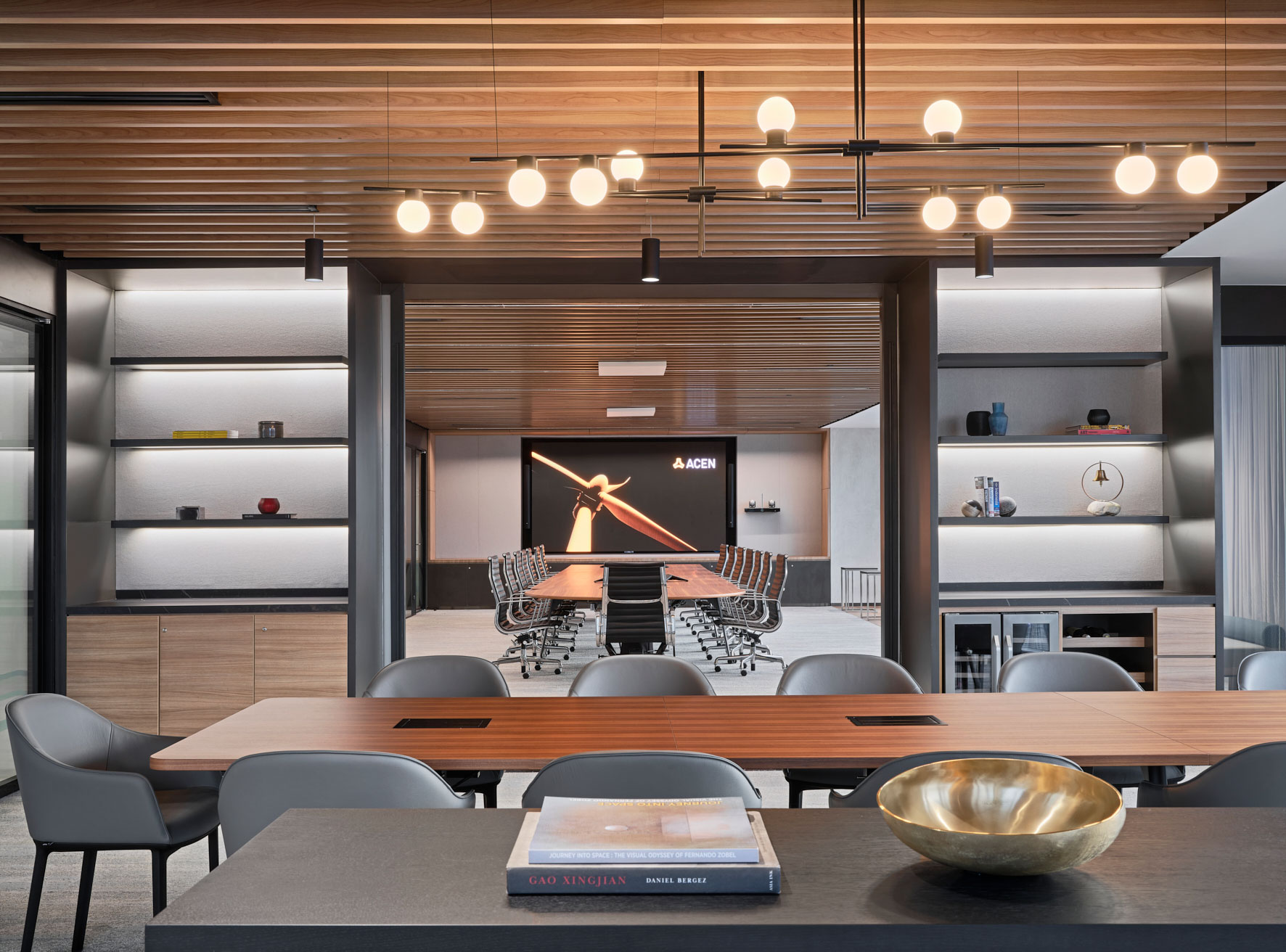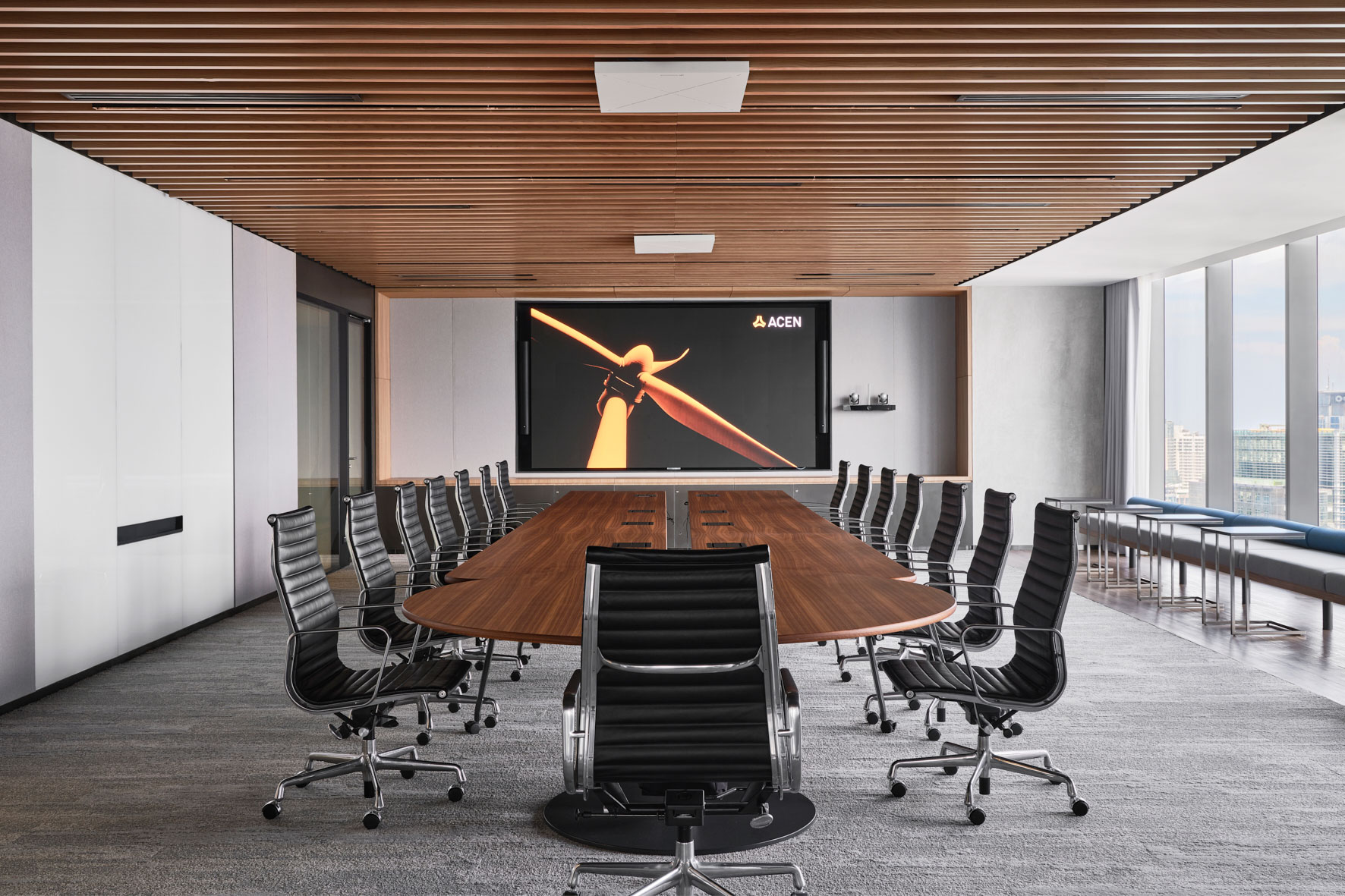 Meeting rooms that foster collaboration among team members
For those who find better productivity working in peace and quiet, the Think Space is a specially designed area with hot desks, booth seats, and high tables where individuals and small groups can focus on ideation.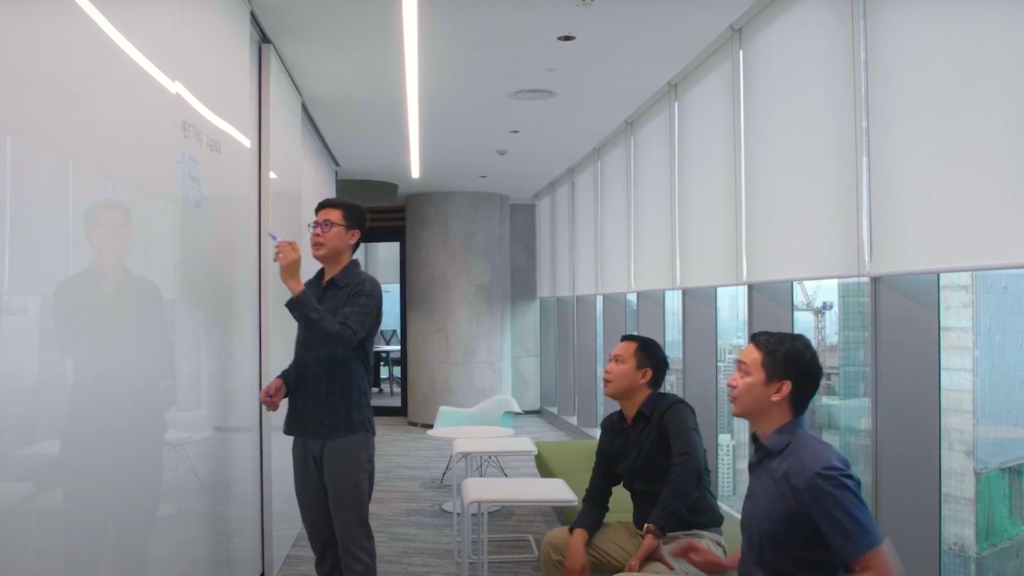 Collaboration spaces are also scattered throughout the HQ, with soft window seating, movable laptop stands, and expansive, sliding writable glass panels.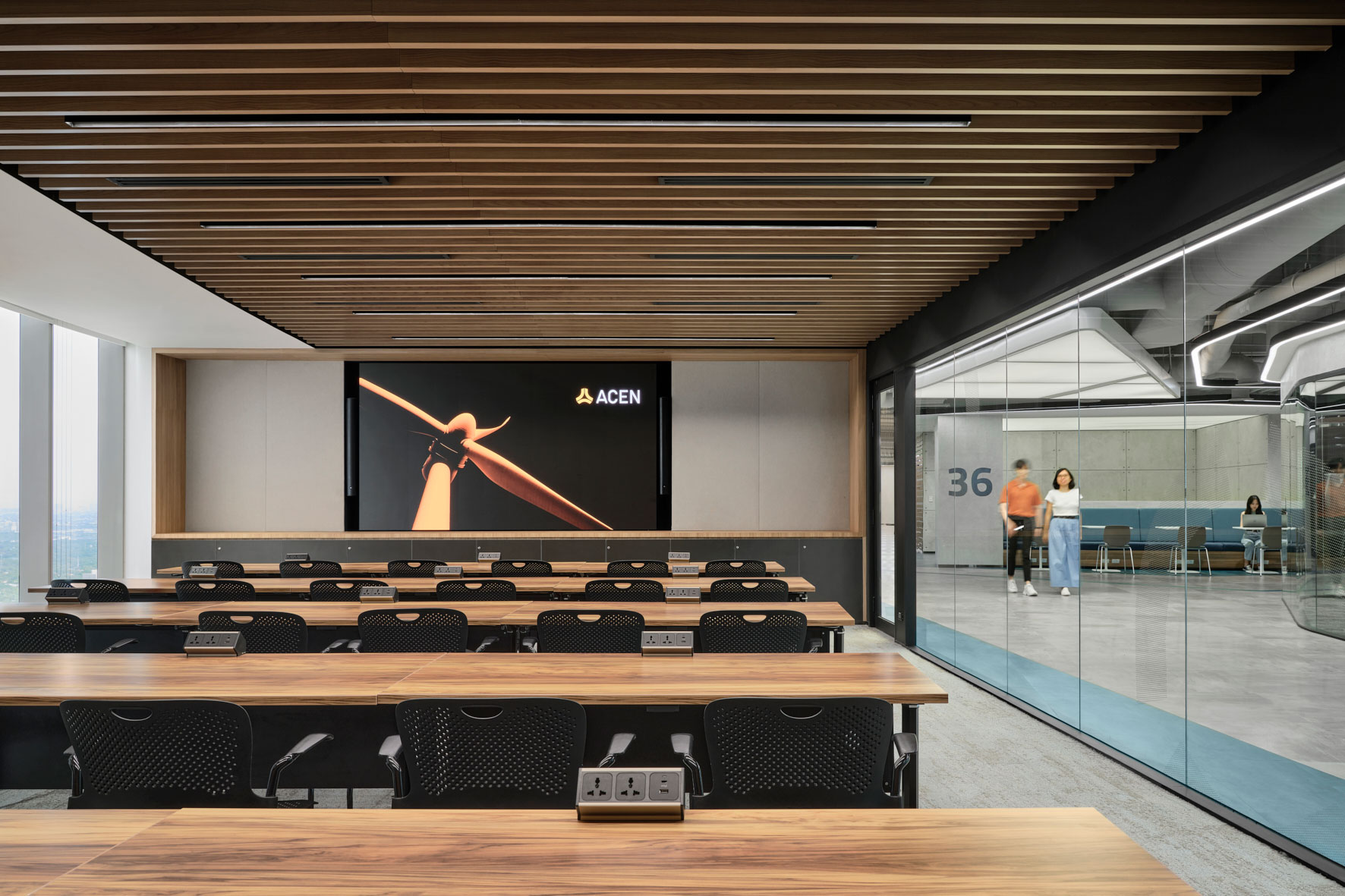 A Training Room, with a capacity for around 30 people and equipped with necessary audio-visual equipment and high-tech provisions, is a dedicated space for inhouse trainings and seminars that ACEN regularly implements for continuing learning and education of employees.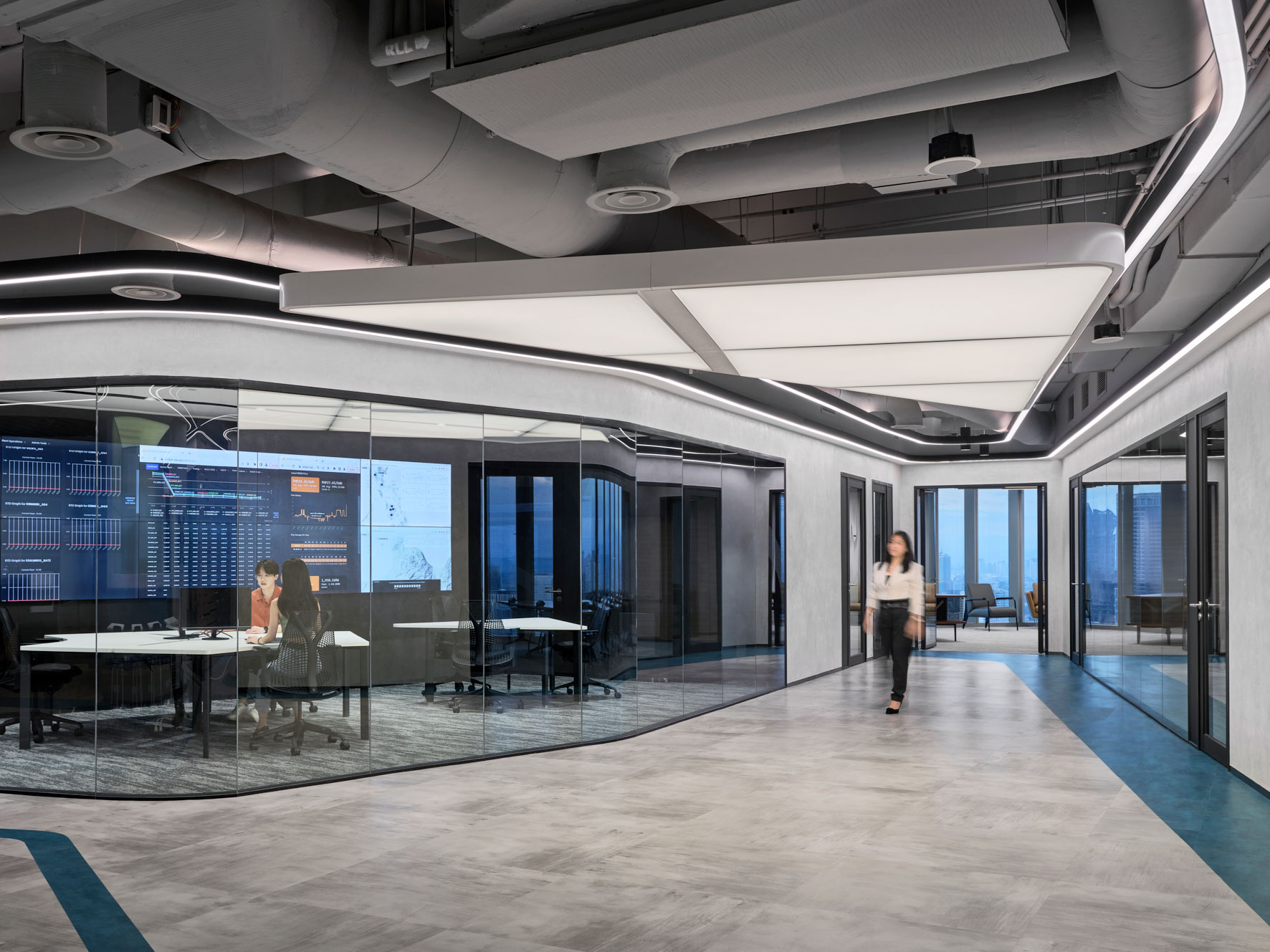 With information technology (IT) playing a vital role in the operations of the company, there is also a dedicated SCADA (Supervisory Control and Data Acquisition) and Trading Room that houses critical computer units for these platforms that are used in the management of ACEN's power generation systems.
All these functionalities are presented in sophisticated, contemporary interior design that speak of ACEN's pride not only in providing the best working environment for its employees, but especially in receiving visitors and guests in its offices. The overall intent is a futuristic industrial atmosphere, with the predominant use of polished concrete surfaces for the floors and walls.

This is successfully balanced with the warmth of wood used in ceiling and wall accents, room divider panels, as well as in some furniture and furnishings. Functional everyday pieces such as desk, meeting and executive chairs are of the latest contemporary ergonomic design in black. In contrast, brightly colored designer chairs randomly positioned in the common areas refresh the eyes.
Views that contribute to ACEN team members' and guests' wellness
Tower Two's prime location also provides some of the best views in the Makati central business district today—the calming, unobstructed green expanse of the surrounding gated villages and the mountain ranges of Rizal in the far distance, in addition to the vibrant city skyline. These vistas bring nature indoors and contribute greatly to the everyday wellness of employees and guests at ACEN.
At a time when companies and enterprises are rethinking the way they do business in the aftermath of COVID-19, the offices of the future clearly have to be more than just a place to clock in and do work. It ought to be a veritable second home where employees not only perform what is expected of them, but where they are inspired to go beyond and live out their passions. It is the goal of a future-proof workplace such as the new ACEN headquarters to be such an enduring, safe space where its leaders, team members, partners, and even visitors and other stakeholders can converge in their common interest of shaping a sustainable energy future.