Social:

Investing in People
ACEN's success in forging a sustainable energy path across the region depends on our ability to effectively and efficiently engage with various stakeholders about our sustainable goals with expert execution.
Thus, through sustained and cohesive initiatives to integrate our values, vision and culture, our different stakeholders identify strongly with ACEN's commitment to "do better" by driving positive change for people and planet, and building a resilient future.
OUR EMPLOYEES:
The lifeline of our business
TRANING AND DEVELOPMENT
We continuously invest in the capacity-building of our employees. In 2021, we spent over ₱30 million in training programs to support our leaders, managers and staff in developing their skills to better contribute to the company's success.
Apart from competency enhancement to drive excellence in our performance, we continue to invest in the welfare of our employees, ensuring their health, safety and overall well-being.
With the ongoing threat of the COVID-19 pandemic, a series of educational seminars were rolled out online, tapping external and internal subject matter experts as speakers and guest resources on various topics that support continuing education, as well as provide valuable opportunities to build new skill sets.
Meanwhile, leadership programs such as the Ayala Leadership Acceleration Program (LEAP) equip our Management Team to maneuver the organization in a swift and agile manner, in line with the demands of the dynamic energy sector that it navigates. This also includes executive educational programs and function-specific programs, coaching and 360 feedback mechanisms.
Managing the performance of all employees is also an important part of motivating and engaging our workforce, creating a venue for us to set clear targets for each team member and to help them understand how they contribute to the company's shared goals. To ensure personal and professional growth of each employee, a rigorous performance appraisal process is held each year which starts from goal setting, talent review using our nine-box grid and individual development plan (IDP), and the performance review proper.
Inclusive
Workspace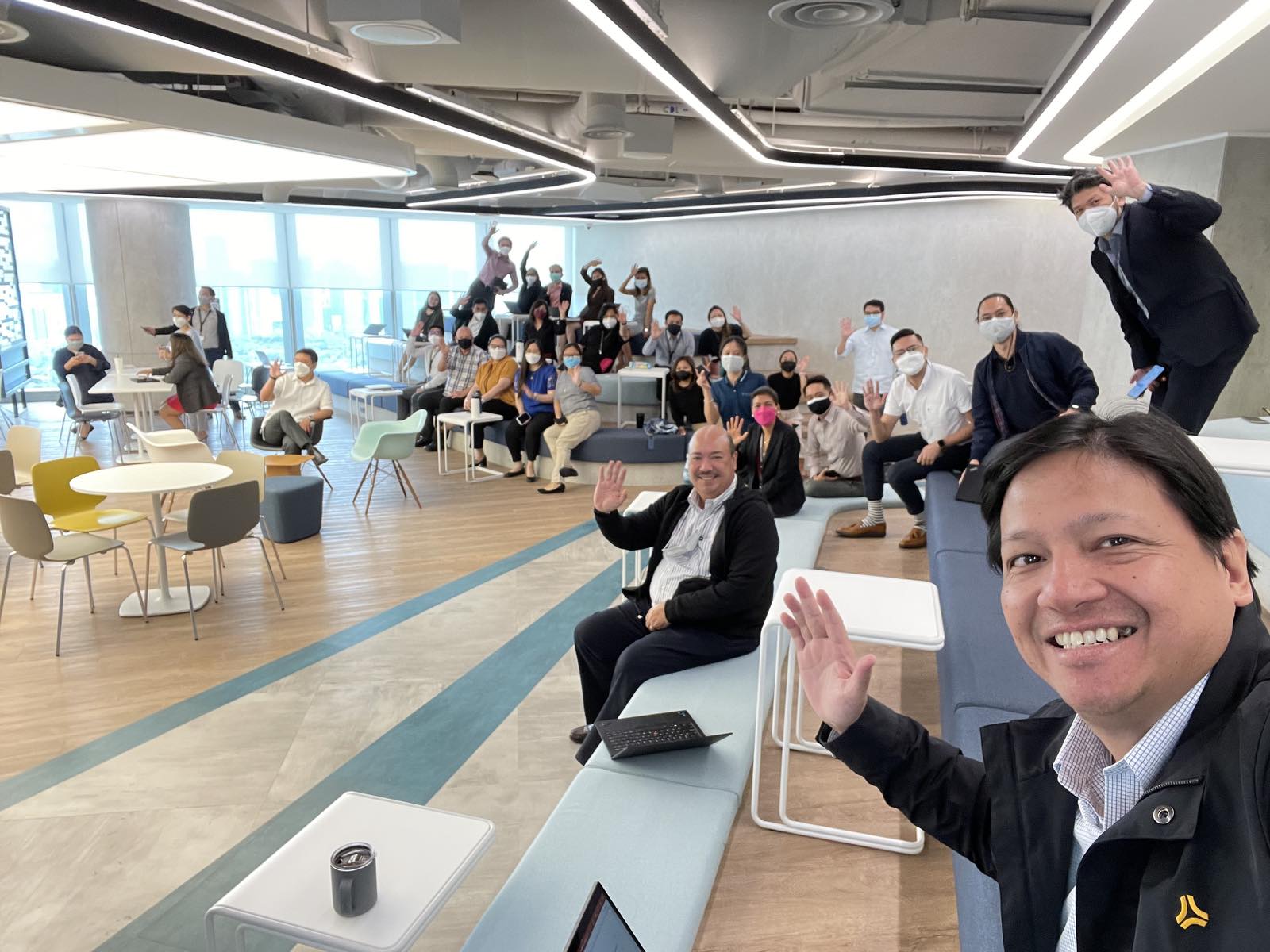 We believe in fostering an inclusive culture where everyone feels they are heard, treated fairly and with respect, and where they are appreciated for their efforts regardless of the roles they play in the organization.
We aim to foster a workplace where employees feel a complete sense of ownership and belonging, and where their opinions matter.
An integral aspect of this is developing a compensation structure that ensures equitable pay across all members of our workforce. Gender diversity is another important goal, where women are given opportunities at every level of the company and especially in leadership roles. Around 35 percent of Senior Management positions is composed of women. We also recognize the value of professional expertise across all age groups, and pride ourselves in having a multigenerational organization that encourages career growth for young professionals and mentorship from senior leaders.
Inclusivity is also ingrained in the design of ACEN's new headquarters occupying three floors in the state-of-the-art Tower Two of the Ayala Triangle Gardens. The office space boasts a fittingly modern aesthetic that reflects the company's commitment to sustainable development, with its design and features aligned with the specifications of the Leadership in Energy and Environmental Design (LEED) Gold certification.
The space was deliberately designed with health and safety, collaboration, and inclusivity in mind, to create a sense of welcome and comfort amidst the ongoing pandemic. We've set up a COVID-19 workplace health and safety plan, which ensures a spacious, low-density design to promote safer distances between workspaces. It also features no-touch technologies in lighting and door access to limit the spread of the virus in the office space. As many employees choose to continue working from home, the office space is outfitted with state-of-the-art audio-visual equipment to keep teams connected and to make virtual and hybrid meetings run seamlessly.
The office's agile design also makes it fully adaptable to meet immediate group needs. For example, the common dining area known as the "Melting Pot" features an ampitheater that serves as additional work spaces and provides comfortable seating for large gatherings. Private spaces like executive rooms can also transform into meeting rooms to accommodate smaller teams.
The new office space was designed to anticipate the particular needs of employees to make individuals feel thoroughly accommodated. Breastfeeding mothers, for example have access to lactation rooms; employees are free to use the office gym and nap areas to help safeguard their physical and mental well-being; and all employees are welcome to use gender-neutral restrooms. A room is also available for the employees to safely deposit their children when they are unable to leave them at home. Lastly, through its sleek, thoughtful, and modern design, the office allows all employees to enjoy the same breathtaking view of the Makati City skyline.
Employee
Engagement
In 2021, we conducted our fourth Employee Engagement Survey. This is conducted every two years to connect with our employees, allow them to provide meaningful input and to monitor engagement levels across all levels of the company. Among the respondents, 93 percent reacted favorably to the sustainable engagement criteria. We strengthened our employee engagement initiatives which cuts across recreational employee activities, performance management discussions, learning and development programs.
At ACEN, we help foster work-life balance through special interest groups that cater to various personal interests of our employees, allowing them to pursue hobbies and passions on a regular basis. As part of our commitment to our employees, we acknowledge the importance of supporting our team's physical and mental well-being. Throughout the year, we implemented group-wide employee activities such as online concerts and virtual teambuilding events. Online counseling and psychological well-being hotline channels are also made available for ACEN employees.
Compensation
ACEN is guided by its compensation philosophy that ensures the competitiveness of employees' total remuneration compared to its relevant market. As a result of the 2021 mid-year compensation review, improvements on the total compensation of employees were implemented. The salary increments, benefits and rewards are commensurate to the overall company and individual performance, determined through the mid-year and annual performance and talent review process.
In 2021, an executive stock ownership program (ESOWN) was also approved. This form of compensation is integral in enhancing business ownership as well as prudence of company management.
BENEFITS
We aim to provide employee benefits in line with our competitive salaries and compensation. In 2021, we earmarked ₱340 million in total benefits, and other employee aid and assistance.
Aside from standard compensation packages, we offer employees wellness benefits that subsidize activities that promote physical or mental well-being. Additionally, we recently recently increased the coverage of all existing health benefit plans for our employees and provided family coverage in our employee vaccination program.
Work-life balance is further encouraged with sufficient vacation and sick leaves, and other forms of paid time off. At the onset of the COVID-19 pandemic, work-from-home and shelter-in-place arrangements were put in place for the welfare and safety of our employees.
At our plants, dedicated shuttle services are provided for employees residing in remote areas. For plant-based employees, comfortable and sufficient staff housing is provided for long-term accommodation. Daily meals are provided by in-house canteen and pantry facilities.
Health-related benefits are extended to immediate family members and include mental health as well as wellness programs. COVID-19 vaccination coverage was also extended to employee dependents.
ACEN offers retirement benefits to ensure the long-term financial welfare of our employees, as well as financial support programs to meet more immediate needs.
Employee
Engagement Score
Policies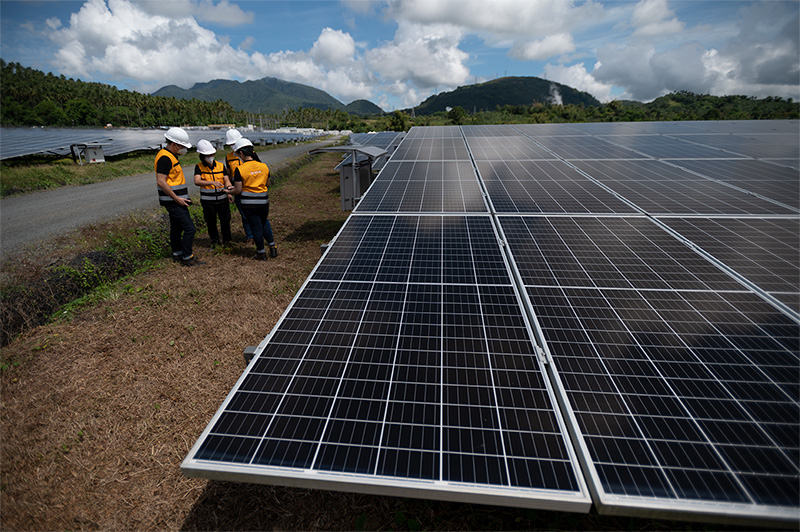 Health and Safety (H&S) are among our top priorities at ACEN, as we maintain operations on a wide geographical scale involving vital resources such as power and electricity. H&S is a foundational aspect of our workplace culture and is constantly observed and improved through monitoring, review and feedback mechanisms.
We also have policies in place that define and safeguard against undesired workplace situations such as harassment and discrimination. These are in line with our overall goal of creating a safe and inclusive workplace, which pertains not only to carrying out one's duties and tasks, but includes interpersonal aspects such as dealing with others and the observance of proper conduct and behavior.
We place the health and safety of our workforce at the forefront of our business agenda. We've also recently reinforced our safety efforts through the establishment of an HSSE Policy for operating plants. This policy provides a framework for all operations to sustain the highest industry standards for Health, Safety, Security and Environment. To ensure consistency across operations, we've set in place a Safety Performance Monitoring and Reporting Standard that enables plants to establish Key Performance Indicators (KPI) for continuous monitoring and improvement.
Our commitment to health and safety follows a top-down management approach where leadership is expected to cascade a culture of accountability across the company. Management programs are rolled out to provide employees with the necessary medical screening, equipment, and training for optimal performance.
Additionally, a risk management process to identify, assess, and prioritize health and safety risks is implemented at the plant operations level to minimize the probability or impact of potential incidents.
In 2021, no incidents involving fatalities or disabling injuries were recorded across our plant operations.
Protecting People
The COVID-19 pandemic continues to have an adverse impact on business and operations, and as such, remains a key consideration in employee welfare and wellness initiatives. Apart from the continuing provision of employee wages and allocation for emergency funds, ACEN spearheaded innovative weekly health checks, periodic updates about the crisis, a dedicated hotline for Covid emergencies, and tele-psychological consultation services.
Our plant employees are given personal protective equipment (PPE) as part of their uniforms, tools and work equipment. Regular emergency preparedness and response trainings and programs are implemented to keep safety instincts sharp especially among onsite workers.
OUR COMMUNITIES:
Creating Shared Value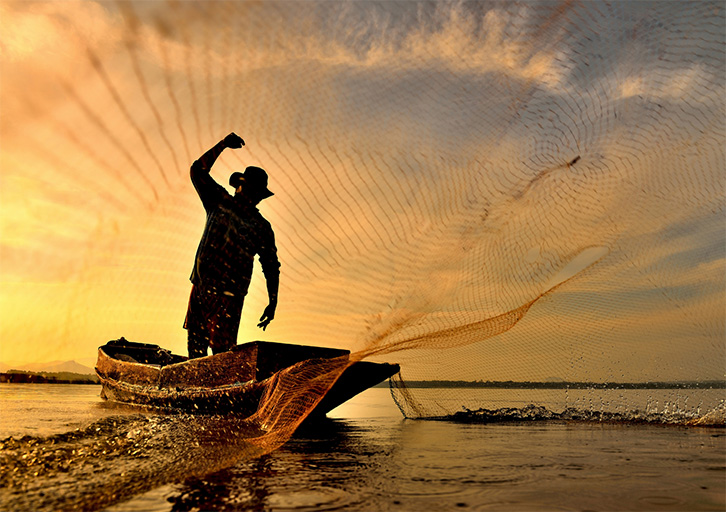 ACEN is committed to protecting communities, including both indigenous and vulnerable populations that are affected by its operations.
We seek to build in areas with little or no population and will avoid involuntary resettlement (physical and economic) wherever possible. We will engage with affected communities and local government units when acquiring land for our projects and throughout the lifecycle of these projects.
We also adhere to high standards on a broader range of material issues that impact power companies. These include business ethics, labor practices, employee health and safety, water and waste management, as well as materials sourcing and efficiency, and product design and lifecycle management.
ENAblING COMMUNITy pROGRESS
ACEN believes that the socio-economic progress of our host communities is a key metric of our business success. Supporting our communities' self-reliance and economic security enables us to create shared value.
ACEN has invested over ₱89 million towards our partner host communities. In 2021, ACEN has uplifted close to 32,500 individuals, 28 hospitals, 137 schools, and 41 communities through our community initiatives by engaging in a range of social development initiatives and creating sustainable green jobs as well as promoting eco-preneurship to ensure the health and livelihood of the local communities.
We also prioritize job creation in all our project sites for the benefit of our host communities. Today, over 70 percent of our plant employees are locally hired.
In addition, ACEN's assets in International invested a total of ₱22.7million* in various CSR activities for its host communities. Through our partner UPC Renewables, Sidrap Wind has implemented community development projects such as road improvements and water pipeline expansion activities. These programs have enhanced agricultural activities and provided clean water access to Lawowoi, Lainungan, and Mattirotasi villages within the Watang Pulu district. In Vietnam, the Mui Ne Wind project, through our partner The Blue Circle, delivered 10 water tanks to aid the water scarcity of poor households in Thien Nghiep Commune, benefitting over 6,000 people. These water tanks would allow for the storage of water during the rainy season to be used during the dry season.
| | |
| --- | --- |
| * | 9.4M of International spending on CSR activities are attributable to ACEN |
lIVElIhOOD pROGRAMS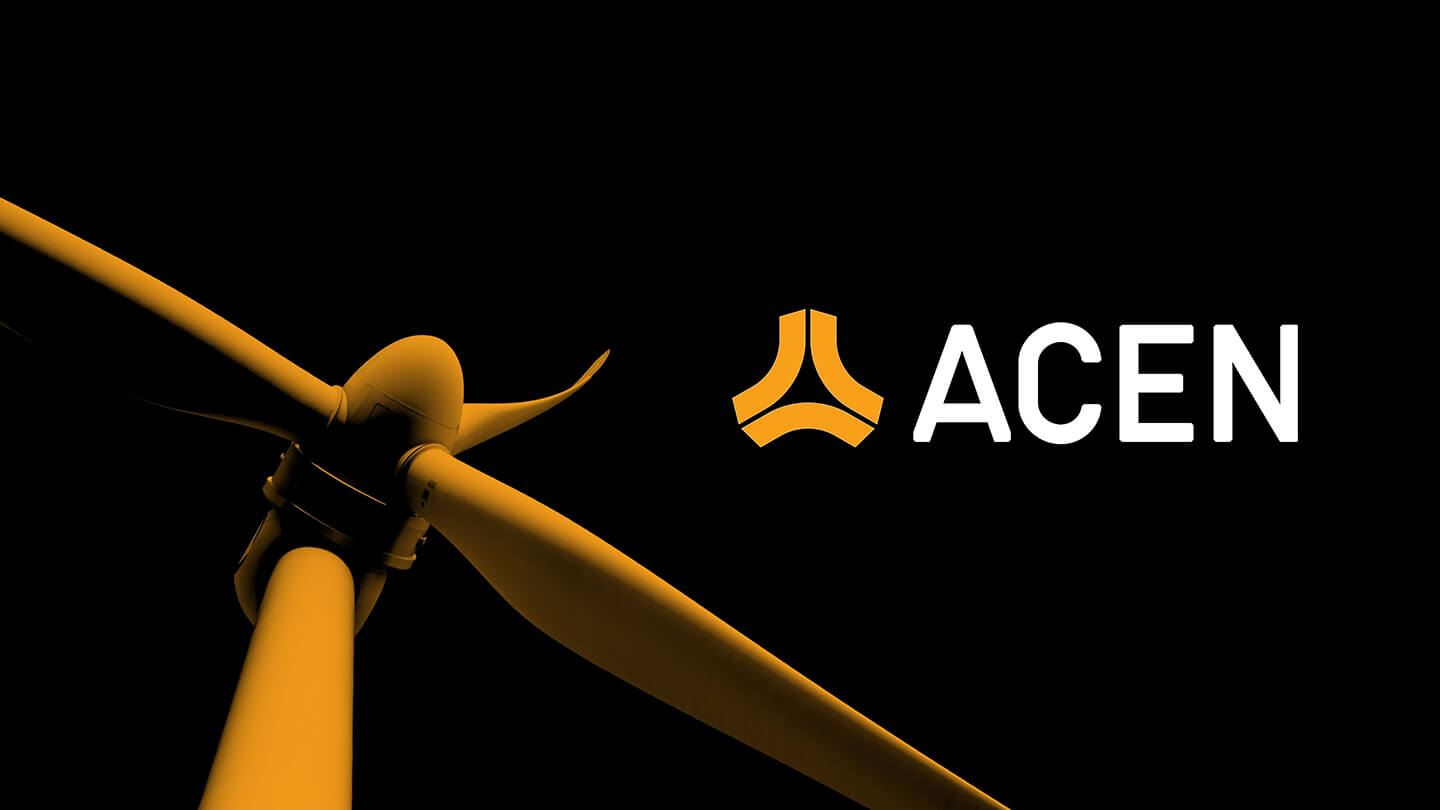 As part of our strategy for resource enhancement and the integration of a stronger sense of environmental awareness, accountability, and stewardship in places of operation, we produced 13 different livelihood programs in 2021. The livelihood programs focused on skills enhancement, women empowerment, creation of green jobs and the promotion of sustainable eco- preneurship.
We recognize that the women's sector is among those most impacted by the pandemic. In partnership with Ensha Wellness, a unique skills training in hilot-hilom was conducted for 30 women from the local communities in Ilocos Norte. The hilot-hilom is a traditional massage locally known as "ablon" which has a healing effect on the body. The trainees were provided with massage kits during the training.
In the same vein, we collaborated with Ayala Foundation and TESDA to train 100 mothers in different municipalities of Cagayan Valley to equip them with various skills in vending, cooking, nail care, and sewing, with the goal to enhance their skills and provide additional knowledge to jumpstart new sources of income.
COMMUNITy ECO hUb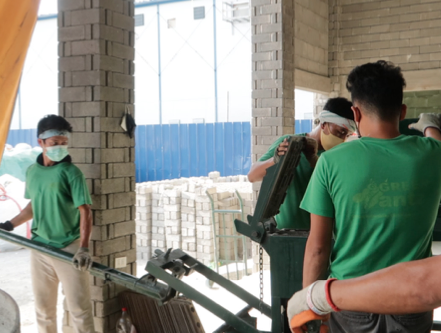 To further strengthen its Circular Economy Framework, ACEN partnered with Green Antz to put up a Community Eco Hub in the municipality of Piddig, Ilocos Norte, following the successful integration of the Eco Hub project in our 120 MW Alaminos Solar farm. The facility is a collaboration among ACEN's two wind farms, North Luzon Renewables and NorthWind, and the Provincial Government of Ilocos Norte. The Community Eco Hub will upcycle plastic wastes from our plants and nearby communities into eco-bricks.
The operational framework of the Community Eco Hub is designed to involve local communities in awareness trainings and campaigns, plastic waste collection, plastic waste processing, marketing, selling of eco-products to local suppliers, and profit-sharing. This program will not only help manage the issues of community plastic waste but will also create green jobs and promote eco-preneurship in the community.
More Community Eco Hubs are in the pipeline for development across our renewable energy plants.
Investment in
Communities
bIODIVERSITy pROTECTION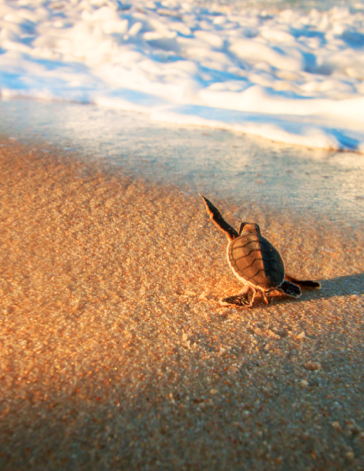 The forest patches inside our wind farms in Ilocos Norte serve as home to 117 species of birds, seven species of bats, seven species of snakes, and four species of rodents – one of which is the endemic Northern Luzon giant cloud rat. To protect this lush biodiversity, a state-of-the-art bioacoustics deterrence system was also put in place to help prevent potential harm to wildlife in the operations of the wind farms.
In Batangas, the South Luzon Thermal Energy Corporation (SLTEC) inked an agreement with the DENR Region IV-A for the adoption of a 10-hectare mangrove plantation in Calatagan for enhancement and rehabilitation. SLTEC has committed to implementing effective management practices and the use of appropriate science-based strategic actions through the assistance of the University of the Philippines Los Baños College of Forestry and Natural Resources (CFNR). SLTEC will work with a local people's organization to maintain a mangrove nursery to house an initial 10,000 mangrove saplings in preparation of tree planting activities in 2022.
ACEN's marine turtle "Pawikan" Conservation Program along the coast of Bangui and Pagudpud in Ilocos Norte is conducted in partnership with the Marine Wildlife Watch of the Philippines (MWWP). The program aims to protect marine turtles in the region by providing technical guidance on pawikan conservation to five coastal barangays and local government organizations such as DENR – CENRO (Department of Environment and Natural Resources – Community Environment and Natural Resources Office), MENRO( Municipal Environment and Natural Resources Office), PNP (Philippine National Police), BFP (Bureau of Fire Protection), the coast guard, Pagudpud Pawikan Conservation Group, and barangay officials. Since 2013, the collaboration of different stakeholders has resulted in 26 Pawikan nests recorded, 32 Pawikans rescued and released, and 1,465 Pawikan hatchlings released to the wild.
Meanwhile, ACEN's Guimaras Wind in Visayas is spearheading the establishment of a fish sanctuary with the Local Government Unit of Dumangas through the placement of Artificial Reefs (ARs) to supplement the habitat of marine life in the area. The establishment of ARs is part of our strategy for resource enhancement and integration of a stronger sense of environmental awareness, accountability, and stewardship among coastal communities. ARs serve as barriers against active fishing gear to protect fish nurseries and act as refuge and feeding grounds of various aquatic organisms. ARs contribute not only to protecting marine biodiversity but also in creating jobs in the community through the promotion of eco-tourism, and supporting the maintenance of sustainable food sources.
EDUCATION
Despite the COVID-19 pandemic and the cancellation of face-to-face classes, ACEN continuously supports schools, host communities, and partner organizations that support the plight of Filipino learners. Over ₱3 million was provided to support scholarships, procurement of school supplies to print modules, and support efforts of Brigadang Ayala Eskwela initiatives.
We also provide training and seminars to our host communities to introduce the concept of renewable energy, disaster resiliency, agroforestry, circular economy, biodiversity protection, rehabilitation, and conservation. As part of the One Ayala ecosystem, ACEN, in collaboration with Ayala Community for Social Impact, ensures inclusive and quality education by empowering teachers and learners with accessible digital content on STEM (Science, Technology, Engineering, and Mathematics) education.
We prioritized the rehabilitation of damaged schools affected by Typhoon Odette (Rai) within our host communities in Bais City, Negros Oriental. We also helped in the rehabilitation of 32 damaged classrooms to the benefit of 2,451 students.
ACEN's International assets invested over ₱1.4 million in educational programs and assistance to support various local communities in Vietnam and Indonesia. These programs include provisions for school supplies, scholarships, and the improvement of educational facilities. Through our partner STAR Energy, Salak Geothermal has contributed to the improvement of rural literacy by supporting the development of the Taman Pamekar Library into a digital library. This would benefit approximately 5,600 individuals in the local community.
MANO AMIGA AND OThER SChOlARShIpS
To further expand our education projects, we partnered with Mano Amiga, a non-profit organization that uplifts low-income communities by providing access to high quality education, skills training, and sustainable livelihood. The partnership seeks to provide scholarships to school-age children from marginalized families, integrate sustainability in Mano Amiga's academic curriculum, and create opportunities for meaningful employee engagement.
DISASTER RESpONSE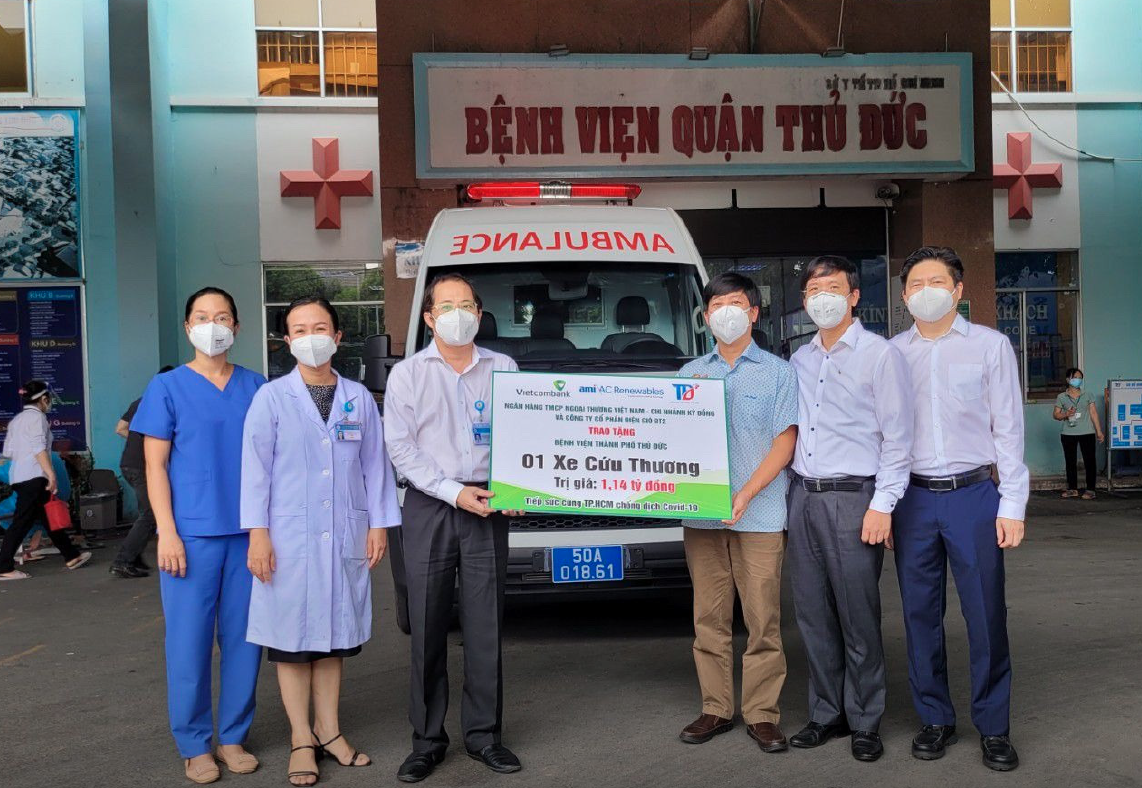 With the increase in force and frequency of natural disasters, along with recovery costs, we have always ensured the quick implementation of measures to mitigate these events and leverage on the Ayala Group's strengths. ACEN, in collaboration with the Ayala Foundation, supported the typhoon-affected communities of Cagayan, La Union and Negros Oriental through relief operations and rehabilitation efforts.
Despite troubling economic times amidst the pandemic, in response to the areas devasted by Typhoon Maring (Kompasu) and Typhoon Odette (Rai), ACEN together with the Ayala Group, has distributed a total of 7,368 food packs to affected families. The food packs contain necessities such as rice, canned goods, noodles, face masks, eco-bags, and water. ACEN has spent a total of ₱12.96 million for the disaster response initiatives including the donation of a fire truck to Iloilo city.
COVID-19 RESpONSE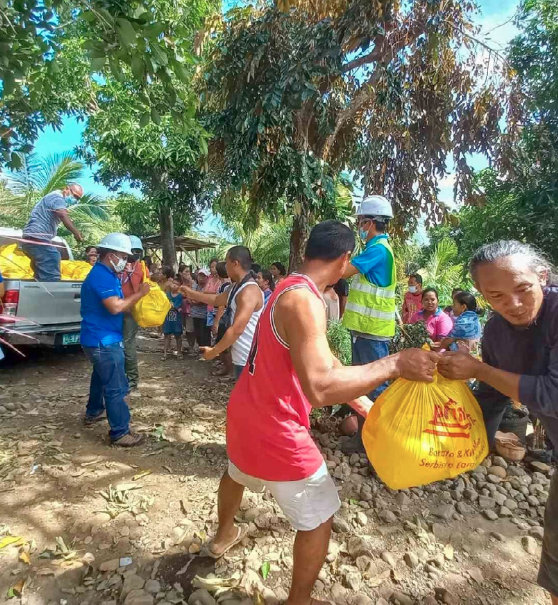 In 2021, ACEN continued to extend COVID-related assistance to healthcare centers, schools, barangays, and LGUs of the different host communities that we serve, investing over ₱8 million in pandemic response initiatives in 2021. Furthermore, our assets in International contributed ₱4.6 million towards Covid relief. These helped fund the procurement of vaccines, testing kits, and other medical supplies. Collectively, these efforts have benefitted 17,000 households.
To fortify the local healthcare system and augment the challenges faced by hospitals and local communities, our power plants donated much needed medical supplies including medicine, personal protective equipment (PPEs), face masks, alcohol, COVID-19 testing kits, and seven units of Integrated Micro-Electronics, Inc.'s UCL Ventura Flow Generator breathing assist kits.
In addition, relief food items were also distributed to families in our plants' host communities affected by prolonged community quarantines.
OUR CUSTOMERS:
Partners in Enabling Renewables
Vital to achieving ACEN's Net Zero carbon ambition is the spirit of collaboration with our customers as we empower and enable them to make a smooth and successful pivot to a renewable energy future.
We have enrolled our pioneer batch of qualified endusers— those with average peak demand of at least 100kW in the past year— who aim to switch to 100 percent renewable energy sourced from our portfolio of solar and geothermal plants in the country. This move is in strong support for the Department of Energy's Green Energy Option Program (GEOP) and the government's goal to achieve 35 percent renewables in the country's energy mix by 2030.
ACEN also remains committed to support businesses on their path to carbon neutrality by entering into energy supply contracts with our customers to provide renewable energy from our portfolio to ensure that the energy they will use in operating their businesses will come from sustainable power sources. Our customers also get to support the growth of the emerging renewables sector and take part in the energy transition from fossil fuels to green energy sources.
SUppORTING OUR CUSTOMERS' pATh TO CARbON NEUTRAlITy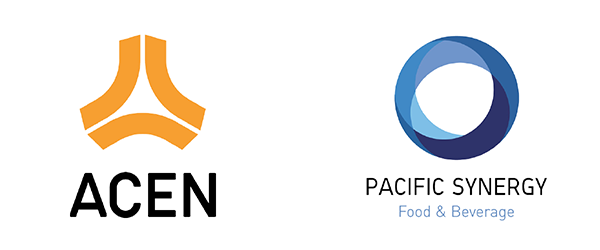 Committing to support businesses on their path to carbon neutrality, ACEN signed an agreement with pacific Synergy last year to provide its laguna plant facility with 100 percent renewable energy during peak hours, eliminating an estimated 1,500 tonnes of CO2e for the duration of their engagement, the equivalent of taking ~324 cars off the road annually.
Under the energy supply agreement, pacific Synergy's power needs during peak operational hours will be energized by renewable energy from ACEN's portfolio of operating wind, solar and geothermal power plants for the next two years, or around 28,913 MWh of renewable energy.
OUR SUPPLIERS & CONTRACTORS:
Creating Ripples in Sustainability
Our suppliers and contractors are valuable stakeholders as well in our thrust toward sustainability. We carefully assess and select prospective vendors on their ability to adhere to the standards and principles of a circular economy that we espouse. For instance, since 2020, we began integrating the use of eco-products in our construction sites across the Philippines.
We also partner with engineering, procurement and construction (EPC) contractors that are certified members of the PV Cycle Association—a global industry-based organization that provides businesses with sustainable waste management solutions aligned with the European Waste Shipment Regulation and the Basel Convention.
ACEN adopts this framework to ensure proper disposal or recycling of e-waste such as photovoltaic (PV) modules that have reached end-of-life or that have been otherwise damaged during transport or installation.
Additionally, over 90 percent of our regular contractors in the Philippines are hired locally.
In Australia, our development platform UPC\AC Renewables has signed a modern slavery pledge developed by the Clean Energy Council to strengthen efforts in managing the risks of modern slavery in the supply chain.
OUR PARTNERS:
Ensuring a Just Energy Transition for All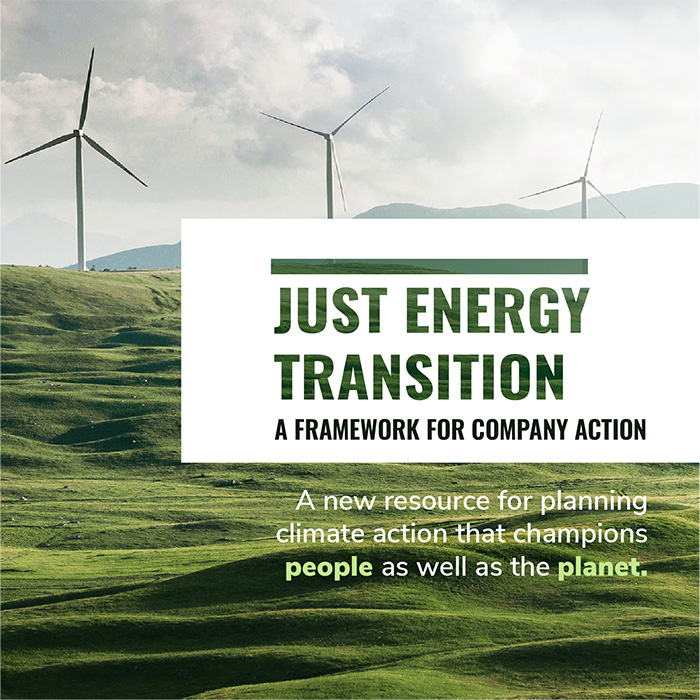 ACEN is cognizant of the challenge of ensuring that the benefits of a renewable energy future redound to all sectors of society. With the impending shift from traditional energy sources such as fossil fuels, the risk of disenfranchising certain stakeholders and disempowering economies is imminent.
We are primarily addressing this challenge together with global multi-sectoral partners and the Council for Inclusive Capitalism in developing the Just Energy Transition framework, which is seen as a definitive guide for enterprises across various industries to ensure inclusive, long-term positive impact of pivoting to cleaner energy.
By promoting best practices, convening in roundtable discussions, organizing learning sessions from expert groups, as well as seeking feedback from the public, we believe that a just energy transition could be within view sooner than anticipated.