Our 2021

Business Performance
In 2021, as the world recovered from the peak of the COVID-19 pandemic, the energy sector experienced resurging demand, heightened by interruptions to Philippine power supply. Aided by its strategy to aggressively roll out renewable energy investments in the Philippines and across the region, ACEN continued to be a direct beneficiary of the steady resurgence in consumer confidence both at home and in the Asia Pacific, especially as fossil fuels became more expensive towards the end of the year.
FINANCIAL AND OPERATING
HIGHLIGHTS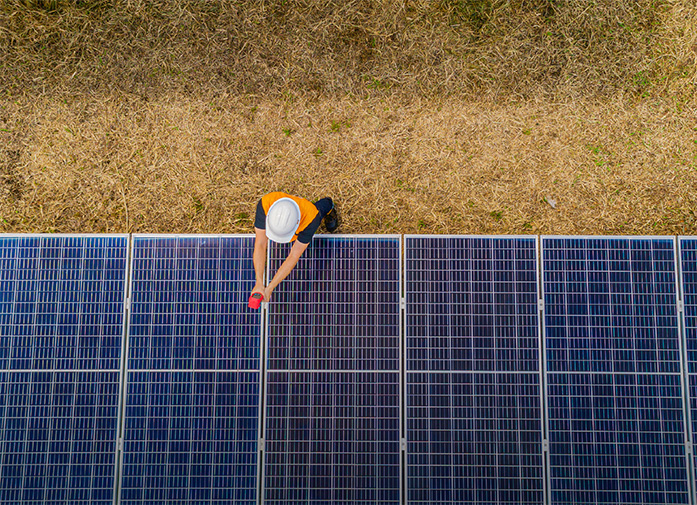 Despite the challenges, our consolidated net income increased 22 percent, reaching ₱5.3 billion in 2021, while revenues rose by 27 percent to ₱26.1 billion. The strong growth of new operating capacity powered its robust performance during the year.
Our noteworthy operating results underpinned our strong financials. Attributable output increased by 21 percent to 4,633 gigawatt-hours (GWh) in 2021 from newly operational projects. This was partly driven by a 23 percent rise from RE sources. Generation grew across technologies and geographies, following the resurgence of demand, with a 25 percent growth in international output, and a 20 percent increase from the Philippine assets.
Furthermore, our consolidated balance sheet strengthened in 2021 due to ₱48 billion in fresh capital raised through a stock rights offering, a follow-on offering, a primary share investment by an affiliate of Singapore sovereign wealth fund GIC Private Limited, and a $400-million fixed-for-life Green Bond issuance. ACEN's assets stood at ₱171.2 billion, growing 21 percent from last year. Total equity, on the other hand, grew 13 percent to ₱118.0 billion in 2021. Despite the company's maiden bond issuance, leverage ratios remained very healthy.
CAPACITY EXPANSION
Against the backdrop of its 5,000 MW target by 2025, ACEN achieved a pro forma attributable capacity of 3,800 MW, in both the Philippines and across the region, at the end of March 2022, through several key greenfield projects and strategic acquisitions. Close to 90 percent of our portfolio is in renewables, among the highest in ASEAN. This includes 154 MW from the recently announced acquisitions of UPC\AC Australia and UPC Philippines, approved by the Board on 18 Oct 2021, as well as a 49 percent stake in SUPER Energy PCL's Vietnam platform in 2022, subject to regulatory and shareholder approvals. This puts us in a strong position to reach our 5,000 MW target earlier than 2025, towards our vision of becoming the largest listed renewables platform in Southeast Asia.
In the Philippines, we currently have ~1,500 MW in pro forma attributable capacity, as of March 2022. Over two-thirds of this, or ~1,000 MW is in renewable energy, mostly in solar and wind, as well as some battery storage and geothermal capacity. Close to 70 percent of our portfolio is already operating, with three new projects starting commercial operations in 2021: the 63 MW Palauig Solar in Zambales in April, the 120 MW Alaminos Solar in Laguna in June, and the 150 MW Ingrid Quick Response Plant in October. Later, in 2022, the 40 MW Alaminos Battery Energy Storage System (BESS), the first utility scale solar and storage hybrid in the Philippines, also began operations.
To address the supply challenges in the Philippines, we are currently building ~480 MW of new attributable wind and solar capacity, alongside a significant ~6,500 MW pipeline. Despite the uncertainties of the pandemic, we continue to complete projects, proving our ability to execute our aggressive renewable energy plans. Throughout 2021, ACEN issued notices to proceed for three new plants in the country: the 72 MW Arayat-Mexico Solar Farm in Pampanga in April, the 160 MW Pagudpud Wind in Balaoi and Caunayan, Ilocos Norte in May, and the 284 MW San Marcelino Solar in Zambales in November.
ATTRIBUTABLE CAPACITY
BY COUNTRY
as of 31 March 2022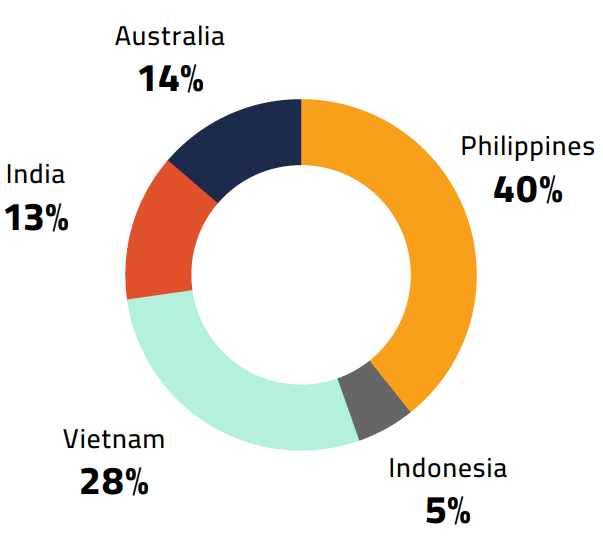 INTERNATIONAL ASSET INFUSION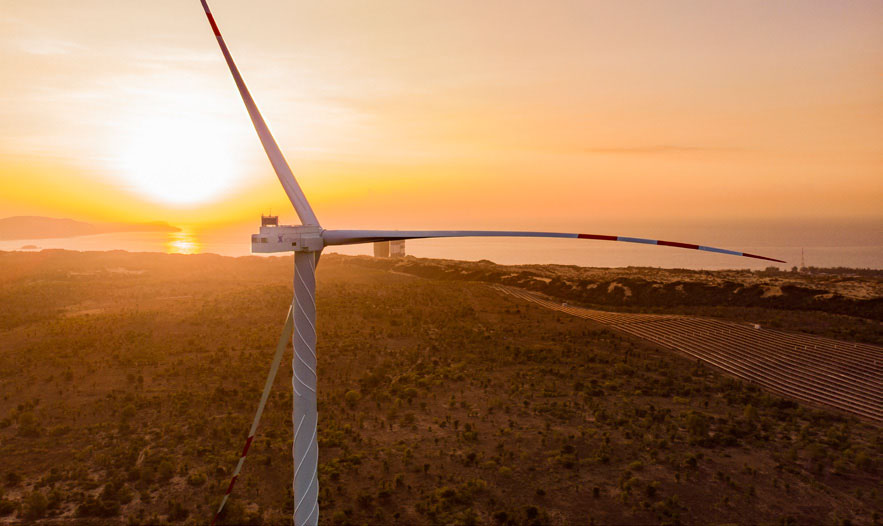 In June 2021, the infusion of international assets into the listed platform was completed. Since this initiative, ACEN has become a truly regional and diversified player in the energy sector, present in five key markets across the Asia Pacific. Our offshore portfolio is 100 percent from renewable energy sources, mainly solar and wind. ACEN is unique as a listed major Philippine power generation company with such a significantly large international portfolio, with ~2,300 MW in pro forma attributable capacity as of March 2022. As a result, shareholders managed to crystallize further value in ACEN with a more geographically diversified array of assets.
Vietnam, as of March 2022, is ACEN's largest market outside the Philippines with over ~1,000 MW in attributable capacity, accounting for 40 percent of its international portfolio. Against a clear government RE policy framework, all of our operating plants in Vietnam receive feed-in tariffs (FIT). As one of the fastest growing economies in Southeast Asia, the country is a key market for ACEN as we take advantage of its strong potential for long-term demand growth.
In November 2021, we successfully secured the FIT for ~380 MW of wind power projects in Vietnam, augmenting ~290 MW of existing operating attributable solar capacity in the country. These newly operational wind capacities are the 252 MW in Quang Binh, the 88 MW in Ninh Thuan, and the 40 MW in Mui Ne. Recently, we also announced our acquisition of a 49 percent stake in Solar NT, a subsidiary of Thailand's SUPER Energy, with 837 MW of operating solar plants in Vietnam. The acquisition is subject to satisfaction of agreed conditions precedent.
Australia is ACEN's second largest offshore market. In 2021, we broke ground on our first project in the continent: the 521 MW first phase of the 720 MW New England Solar Farm in Uralla, New South Wales, through joint venture company UPC\AC Renewables Australia. The announced acquisition of UPC\AC Renewables Australia will give us access to ~8,100 MW in pipeline projects and will allow us to independently develop power projects outside the Philippines for the first time.
With new capacity and capabilities, we are in a strong position to take advantage of the demand for new RE capacity that is expected to open up in Australia. Several planned baseload coal plant closures make the country an optimal target for investments in renewables. Through its large attributable capacity and pipeline in Australia, ACEN is well-placed to capitalize on the country's energy transition.
India accounts for over 500 MW of ACEN's pro forma attributable portfolio, as of March 2022. Driven by a population of over 1.4 billion, the growing demand resulting from the country's ever-expanding economy, as well as relatively low development costs, makes India a key market.
As a leading renewable energy developer, we are in a strong position to help with India's target to increase its RE capacity. In 2021, we opened two new plants in the country: the 140 MW Sitara Solar farm in Rajasthan, our first project in India, and the 70 MW Paryapt Solar in Gujarat. A third project, the 420 MW Masaya Solar Farm in Madhya Pradesh, our largest in the country, began construction in 2022.
Indonesia is ACEN's first market outside the Philippines. In 2017, alongside local geothermal company Star Energy and Thailand-based Electricity Generating Public Company Limited (EGCO), our parent, AC Energy, was part of a consortium that acquired the then-637 MW Salak and Darajat geothermal fields in West Java. Since then, we've pursued our first greenfield project outside of the Philippines, the Sidrap Wind Farm in South Sulawesi. Today, the company's attributable capacity in the archipelago is at ~200 MW, as of March 2022.
With our proven experience in Indonesia, ACEN remains well-situated to take advantage of RE opportunities in this market.
OUR OUTLOOK
Charging toward the future
As economies emerge from the COVID-19 pandemic, global energy consumption is expected to rise as consumer spending and industrial output recover. However, supply chain disruptions, geopolitical restrictions on coal, oil, and gas imports, and the ongoing conflict between Russia and Ukraine, have amplified power supply issues in a world still largely dependent on thermal energy. As a leading renewable energy provider in the Philippines and the Asia Pacific region, ACEN stands to benefit from these trends. Our aggressive expansion despite pandemic restrictions in the last two years has paid off, as more solar and wind farms are expected to begin operations in 2022 and 2023.
Currently, we hold ~3,300 MW in pro forma attributable renewable energy capacity, putting us on track to achieving our 5,000 MW goal by 2025 ahead of schedule.
We continue to aggressively replenish our pipeline in the various geographies where we are present, with 18,000 MW of capacity in various stages of development, including projects that we are developing both organically and with strategic partners around the world.
The recent global conflicts and supply chain disruptions have led to volatile fuel prices, necessitating the development of more indigenous and sustainable energy sources. Beyond ACEN's onshore solar, wind, and geothermal portfolio, we have been busy exploring other technologies such as potential floating solar and offshore wind installations. Battery storage systems must also be developed in parallel to complement intermittent generation.
Demand for renewable energy will continue to grow as the world pursues energy transition to move away from fossil fuels toward cleaner, more sustainable energy sources. Although this means increased competition and margin pressures in the sector, the opportunities for ACEN will also expand as we get closer to realizing our vision of becoming the largest listed renewables player in Southeast Asia. Our efforts contribute to the Net Zero commitment that it has made together with the Ayala Group, with the vision of a more sustainable world that future generations deserve, free from the devastating effects of climate change. For this reason, ACEN continues to lead the charge in the renewables revolution.